How to Build and Run a Successful Clan in Clash of Clans
'How to Run a Successful Clan in Clash of Clans', is a serious question for many COC Players. Clash Of Clans is a game which is loved by all the ages since 2012. This game is all about making your own village, dominate others, join a team, support a team, attack and defend. How interesting it seems! Isn't It?  Those who don't play Clash of Clans (COC) wouldn't be knowing much about it. So, I recommend you to play that…
When you reach town hall 3/4, you must have your clan-castle rebuilt. Then, you will just be enjoying talking and playing wars in other clans. As slowly you grow up in COC, you'll be getting good experience about all the things of the clan. When you see a leader ruling other villages in a clan, we even think of being a leader. And that's pretty simple. You have to just make a new clan! But, to bring good members in it is kinda difficult. Build a Successful Clan in Clash of Clans is not easy at all. You need patience.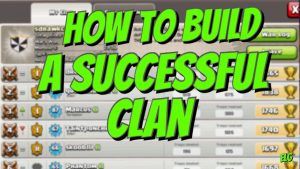 UPDATE (3rd March 2019):  As of now, I NO more play Clash of Clans and Clash Royale, but the tricks listed here, still do work for sure 😉
Look for a good name…
The first thing you have to start with, is making a new clan. For making it successful clan in clash of clans, you have to put on a very catchy name. No such names as 'Good Clan', 'Clash Clan', 'Your Name' or anything such simple. You should think of a good name. For example, you can have my own clan (#UnitedWizards). Or if you don't like that, you can have names like 'Artlab Warriors', 'CrazyBoys', 'FightingSkills' and so on. COC has no bot which brings your clan name up in search. Its totally random. So, if you're searching for a common name that everyone will search for, that will be a great mistake. Clan Names aren't that important, but it is the main part of your clan's identity.
Make it 'Anyone can join'
After making a new clan, you must have thought of having good members in clan. But, this doesn't mean that you shouldn't allow rushed villages in your clan. Every Member becomes very important when you're recruiting players. When you're starting your clan, keep it Anyone can Join, so that they'll come in your clan without questions. If you don't like them, you can kick them out after you get many other players. You should keep it Anyone can Join till you don't get atleast 20 members.
Keep required trophies up to 600-800 only
For showing your clan to have professional dreams, you shouldn't allow the players who are in bronze league. I recommend you this, but still its up to you. Never keep your required trophies up to 1000 or 1200 until you get many members. I'm saying this because most of players in COC are in silver league. So, very less of them would have 1000 trophies.
These terms were all about settings of the clan. Now, I'll talk about bringing new members in clan. In my clan, I have 30 members out of which 27 are invited from Global chat and many of that 27 are my friends now! So, global chat is very useful for recruitment. When you finish bringing 20 members or 30 members, you can make your clan "Invite Only" or "Closed".
Invite from Global Chat
This is the most useful feature of recruitment. When we invite members, most of them join and leave clan. But there're few tactics to keep them in the clan. Inspite of clicking the Invite button, you should also write the players name and ask him whether you want to join or not. If you asked, he will feel like you're kind and he will join your clan. When he joins the clan, just put a message of "Welcome to Clan my friend!" and talk to him informally. Ask their living city, age and real name. This is how they'll like you and stay in your clan. You can also tell them to invite others and make the clan eligible for war. Once you start your wars, members will join to your clan for playing wars. For keeping them a longer time, you can tell them to bring 50 war stars to get Co-leader and 25 for Elder.
A Successful Clan in Clash of Clans is always active on Global Chat!
Promotion Policies
Making a promotion policy is very important for you and your clan. Never give away elder and co-leader easily. And never ever think of giving someone leader. You can have reservations as my clan has. (4 Co-leaders, 15 Elders and 30 Members only. Nothing more than that.) You can write that in description about the reservations and tell them that do not ask for promotion. Whenever they ask you, just get rid by telling them that I will promote you after I win your trust. If they're kind, they'll stay for winning your trust and if not, they'll leave. But it won't hurt you because all members aren't like that.
Donation Policies
The most important thing for which anyone will join your clan is Donations. If player didn't got that, he will just leave off your clan and find for other. That would not prove good. For that, insist everyone for making good donations and do write a mail regularly about it. Never give wrong donations. And if you don't have what they ask, tell them the troops you have and whether he needs that. Or if you don't have, tell him kindly to wait for that. A Successful Clan in Clash of Clans always donates! If it doesn't, it just can't be a clan!
A Successful Clan in Clash of Clans always donates! If it doesn't, it just can't be a clan!
Accept Strong Members
You should never miss your chance of getting a town hall 8/9/10/11 member in your clan. This will highly help you you to gain points for your clan and also receiving good donations. A strong member to whom you trust should be made a Co-leader so that he will stay in your clan. Tell him that he will be an inspiration for other clan members and to lead them in wars. This will help you and your clan a lot.
Be active
Your members should never feel boring. They always seek attention and being a leader, you should pay that effort. Have challenges in clans. And you can have a start for challenges and then everyone will start playing. This will make them happy and will bond a better friendship with you. Always talk in friendly manner with them. It should not look as if you're boasting your leadership. Such clans do not stay for a longer time.
Advertise it everywhere..
You should not make a limit of advertising in Global Chat only. Instead, you should advertise it on Facebook, Twitter, Whatsapp and YouTube comments.
You can just Tweet this to Advertise your Clan…
Here, I have brought you few useful links which you may like:
Thus, I think that I covered all the topics of making a successful clan. If you have better tips, feel free to comment it below so that I can add it to the post!